Big BMX and Cruisers
The Bikelife scene continues to grow rapidly as a mainstream cycling sport/activity that literally anyone can have a go at. With a culture routed deep in some of the worlds most disadvantaged inner cities, Bikelife emerged as a sub-culture bringing people together with an ideology to stand against gang culture and do something positive. Instagram plays a huge part in the movement with a global network of supporting riders who push the sport ever-forward. Keeping your front wheel in the air is addictive, once you master the basics, it's time to take it up a notch and throw in some combos or swerves. Hook up with some other riders and organise a rideout. There is literally nothing else that can provide the same exhilaration or feeling of freedom as a gang of pedal bike riders coming together and riding as one.
Mafiabikes is at the forefront of wheelie bike innovation. No other company in the world has yet adopted a fully dedicated approach to pushing the sport forward through design and technology. Whilst any bike is good enough to get started in Bikelife, only Mafiabikes produces bikes specifically designed at a detailed level to maximise your potential on the back wheel.
Mafiabikes has an extremely dedicated design team who all ride wheelie bikes regularly and work tirelessly to provide our customers with the latest ideas and designs in the sport. We have a large network of specialist dealers with a passion for bikes. We have a team of international riders who push our products to the absolute limit and help us move forward and stay ahead of the game.

The medusa is the sickest wheelie bike out of the box on the market! Featuring our hugely popular wheelie kit and some sick colourways. These bikes are going to change the game, again.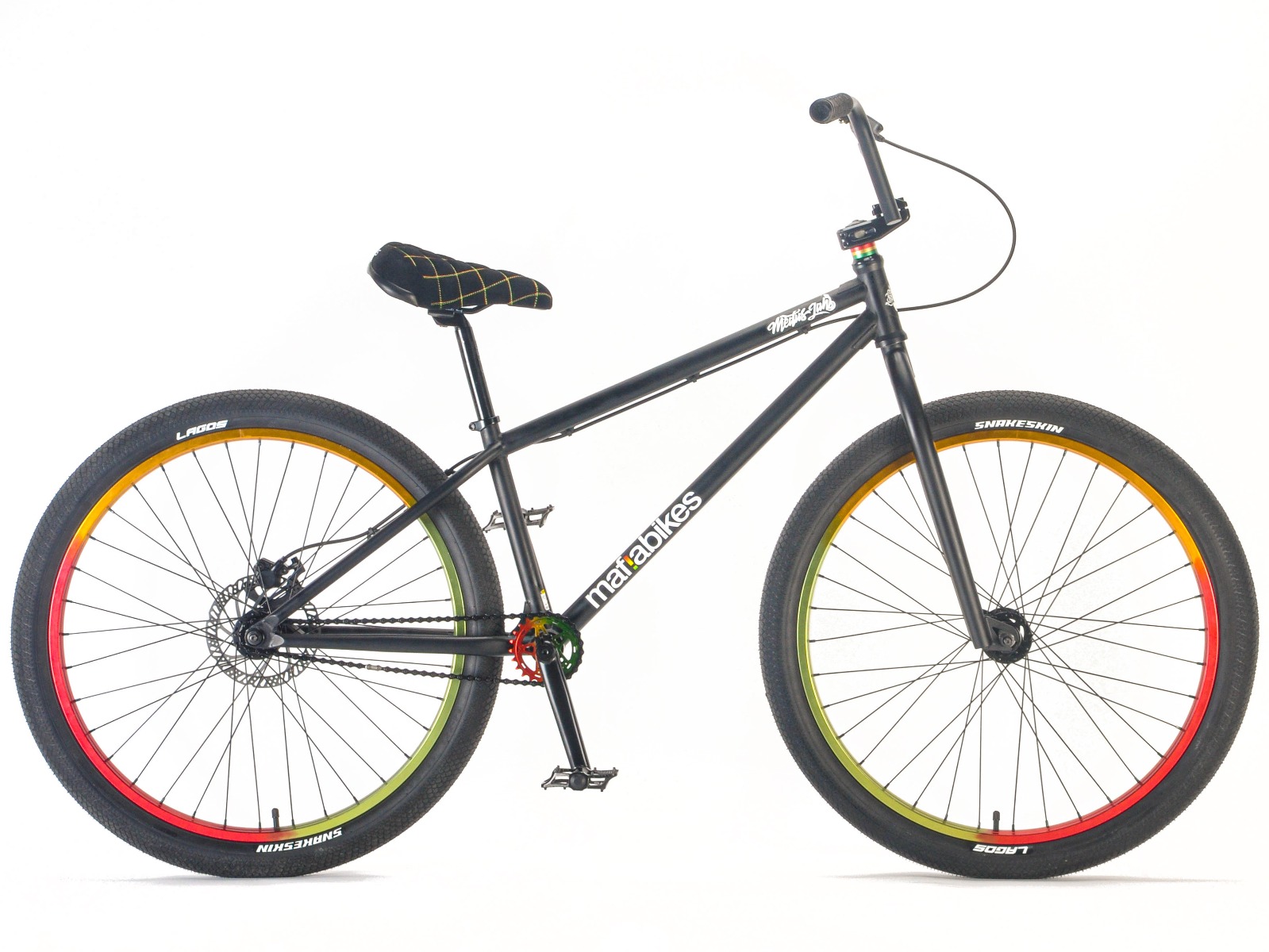 Frame:
TT: 571.5 (A)
CS: 406 (B)
HT: 71˚ (C)
ST: 75˚ (D)
BB: -19.4 (E)
SO:285.5 (F)
4130 cro-mo DT
HT/DT gussets
Sealed Mid BB
CNC headtube
External seat clamp
Forks:
Hi tensile
Taper Blade
Thread-less steerer tube w/star nut
Bars:
H: 6.5" (G)
W: 30" (H)
Hi Tensile
Headset:
Sealed internal
Stem:
Mafia bike forged top load stem

Grips:
Lucky 6
Pedals:
Mafia bike plastic pedals
Seat:
Mafia suede wheelie seat w/ micro adjust seatpost
Brake:
Tektro Hydraulic rear disc
Front hub:
10mm alloy sealed hub
Rear hub:
10mm alloy sealed cassette hub/ 10t driver
Rims:
Double wall alloy
Cranks:
4130 3 piece
Tyres:
Lagos 2.5 snakeskin tyres
Seat clamp:
External seat clamp
Weight:
30 lbs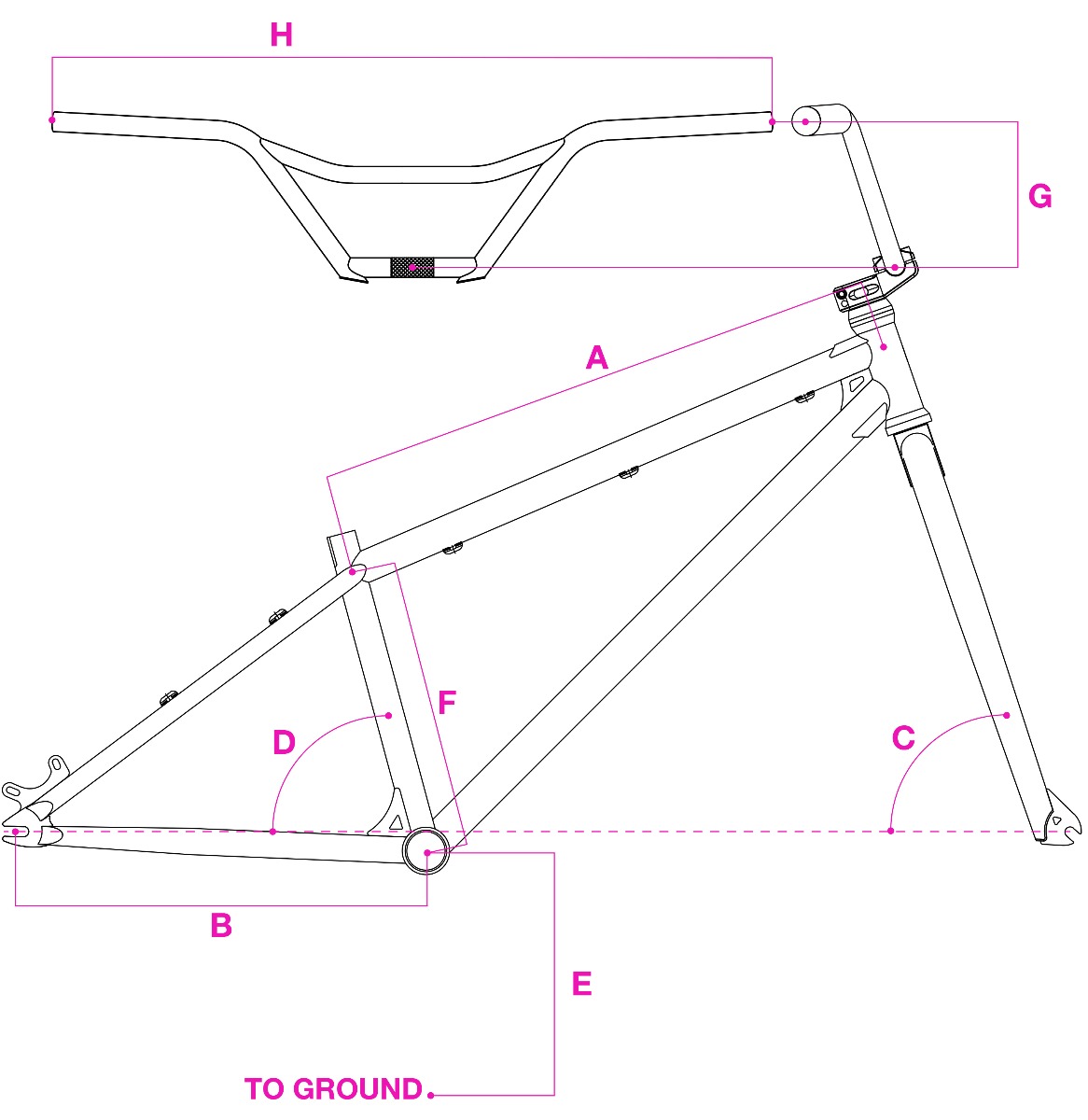 Project Chenga: A new school Street Bike with old school vibes.

The brief was to design a brand-new street bike from the ground up using the latest technology and components available on the market. The bike had to fulfil the demands of the rapidly emerging wheelie scene, but also be tough and versatile enough to cater for how the wheelie culture might develop (as tricks progress and crossover to BMX/trials/street riding). Looking to the future, we set to work creating a true BMX/MTB/Cruiser/Retro hybrid.

With a massive input from our key OG wheelie riders and ultimate design realisation from our highly experienced product design team, the result is in our minds and of the opinions of many influential riders in the scene, a 'masterpiece'. The first totally dedicated wheelie/street bike that brings all flavours together and ticks all the boxes for all riders. Wheelie it, Jump it, Trick it, Race it, Chenga is ready. We just set the record straight, now its time for the rest to follow.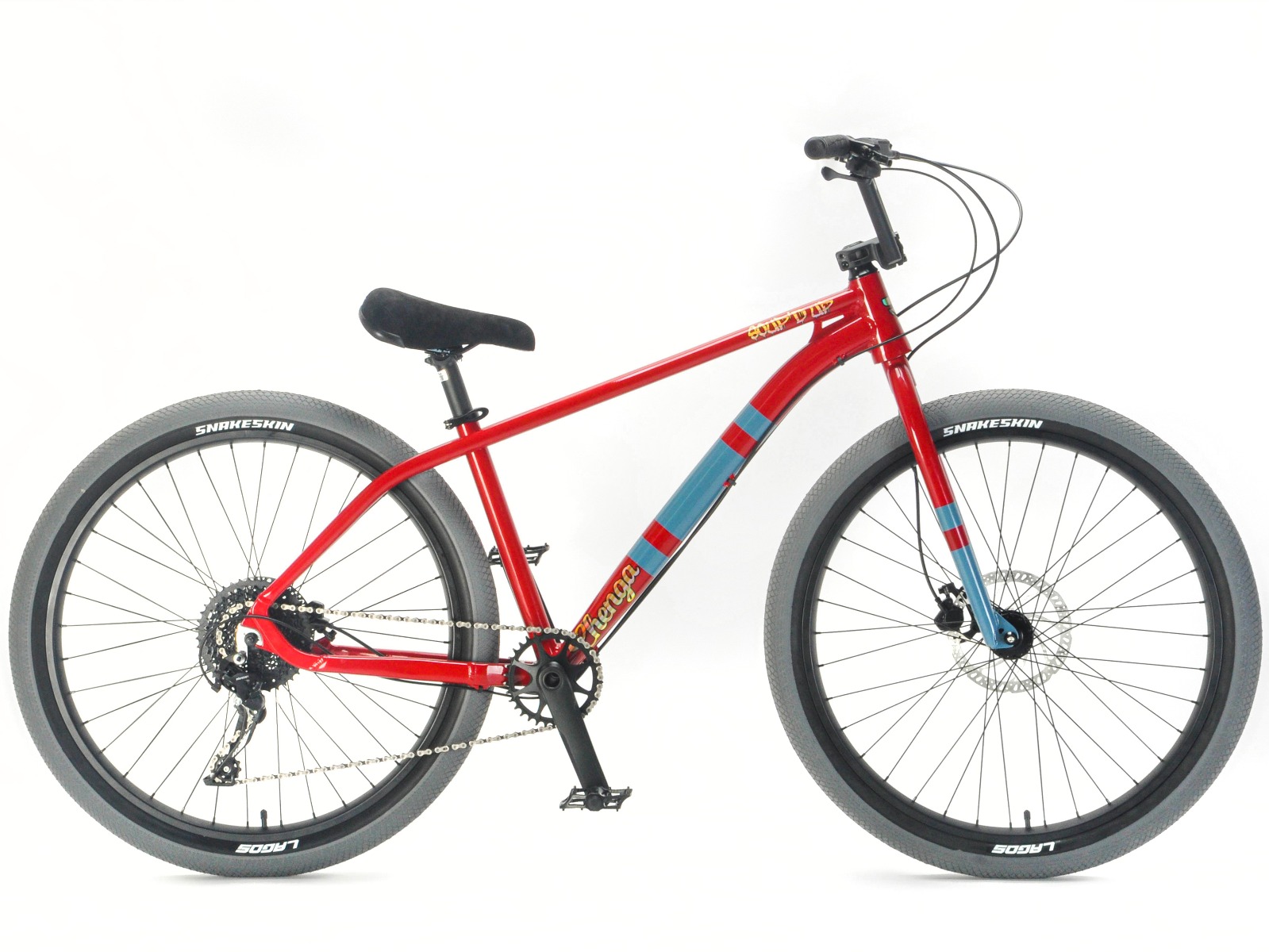 Frame:
TT: 615 (A)
CS: 437 (B)
HT: 70˚ (C)
ST: 71˚ (D)
BB: -61.3 (E)
SO:360 (F)
Hydroformed and heat treated 6061 alloy tubing
Forged Mafia designed yoke for big tyre clearance
Bars:
H: 6.5" (G)
W: 30" (H)
4130 cro-mo
Forks:
4130 cro-mo
tapered blades
CNC machined top cap
Headset:
Sealed integrated
Stem:
Mafia bikes forged front load
Grips:
Lucky 6
Pedals:
Alloy
Seat:
Mafia suede wheelie seat w/ micro adjust seatpost
Sprocket:
CNC machined 7075 sprocket w/ thick thin teeth for optimal chain retention
Rear mech:
Microshift XLE
Brake:
Tektro Hydraulic disc brake front and rear
Gearing:
Microshift XLE 10 speed (11-42)
Front hub:
Solid axle alloy front hub
Rear hub:
Solid axle alloy rear hub w/ 10 speed cassette (11-42t)
Rims:
Super wide double wall
Cranks:
Samox cranks w/ Hollotech BB
Tyres:
Lagos 2.5 snakeskin tyres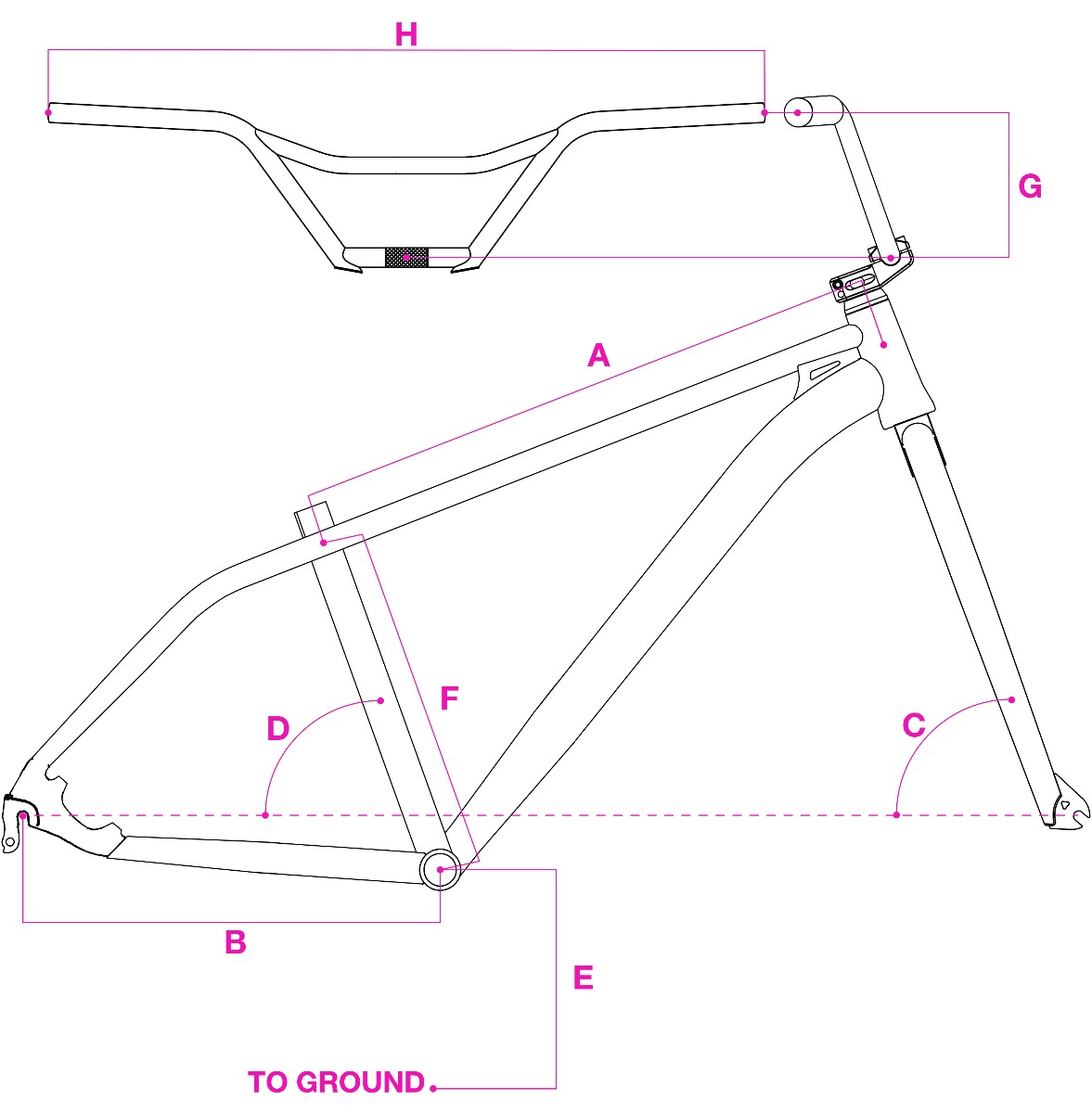 The rapid emergence of the pedal Bikelife culture has created a new and exciting freestyle niche for the streets. With our history in quality BMX and fixed gear bikes, it was inevitable that we would end-up at the forefront of the scene, designing some of the most exciting and affordable wheelie-specific bikes money can buy.
BOMMA is a fresh design, with a focus strictly on all-round wheelie tricks. Designed to have a large balance-point range for stable wheelies and combo tricks, it sits quickly and effortlessly on the rear wheel ready for whatever you want to throw at it.
We've gone all-out with micro gearing, sealed driver rear hub, Mid sealed BB (BMX) double wall rims, suede (for grip) fat seat and quality 4130 3-piece cranks. The massive 3.0" specially designed Lagos tyres feature a V profile to help you fall effortlessly into those swerves and hold your line with confidence. Because we know your brake is seriously important, BOMMA comes with a Tektro rear disk brake installation which is easily upgradable to hydraulics (liquids) later.
Retro fat looks, crazy colourways, hi spec and ultimately created by engineers and designers (who ride wheelie bikes) to give you the ultimate riding experience. Why would you pay more for a lot less?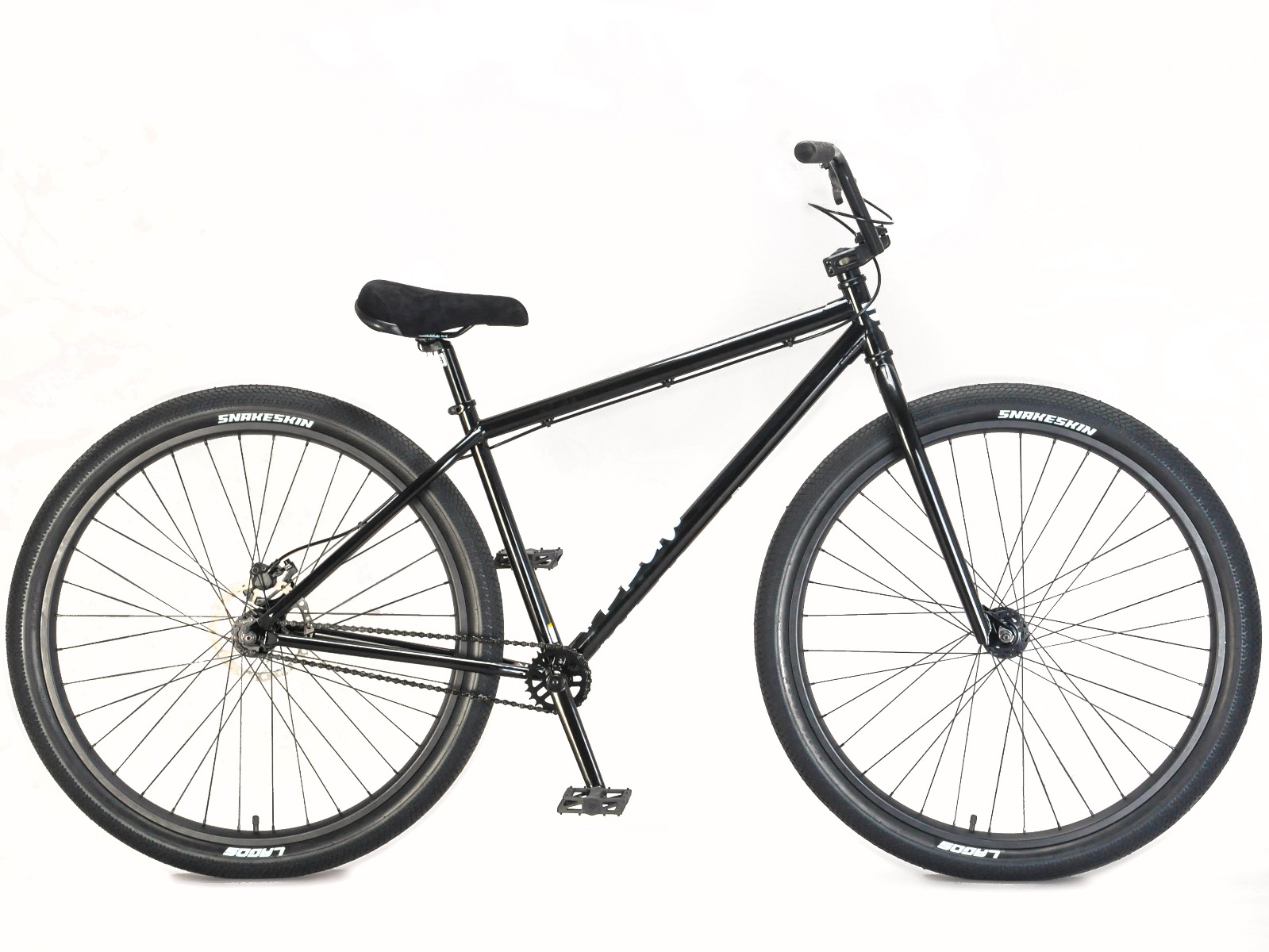 Wheel size:
26 or 29 inch
Frame:
TT: 609 (A)
CS: 435 (B)
HT: 70˚ (C)
ST: 71˚ (D)
BB: -61.3 (E)
SO:364 (F)
Hi Tensile
HT/DT gussets, w/ additional tt/dt web for extra strength
Sealed Mid BB
CNC headtube
External seat clamp
Bars:
H: 6.5" (G)
W: 30" (H)
Hi Tensile
Forks:
Hi tensile
Taper Blade
Thread-less steerer tube w/star nut
Headset:
Sealed internal
Stem:
Mafia bike forged top load stem
Bake:
Tektro Hydraulic rear disc
Grips:
Lucky 6
Pedals:
Mafia bike plastic pedals
Seat:
Mafia suede wheelie seat w/ micro adjust seatpost
Sprocket:
33t Steel sprocket
Rear mech:
Microshift XLE
Rims:
Double wall alloy
Rear hub:
10mm alloy sealed cassette hub w/ 10 speed 11-42t cassette
Front hub:
10mm alloy sealed hub
Cranks:
4130 3 piece
Tyres:
Lagos 2.5 snakeskin tyres
Gearing:
Microshift XLE rear mech - 11-42t Cassette
Weight:
30lbs